The adoption of pre-engineered lgsf buildings in India has emerged as an innovative solution to address the challenges posed by shorter deadlines, financial constraints, natural calamities, and the increasing demand for energy-efficient construction materials. LGSF buildings offer several benefits that make them an attractive option for the construction industry in India.
Currently, India is the second-fastest growing economy in the world, primarily because of the construction industry, which ranks second only to agriculture in terms of economic contribution. Even though India is the world's third-largest steel producer, steel structures were primarily used for industrial purposes.
Nevertheless, lifestyle changes and infrastructural development have triggered a steel revolution in India. Prefabricated building systems have proven to be a boon for today's architects, contractors, developers, and construction companies, who are gradually embracing the methodology.
Pre-engineered LGSF Buildings in India have a rich history and have come a long way since their inception. Hence, stay tuned to find out how it began, how it evolved in India, and what the future holds.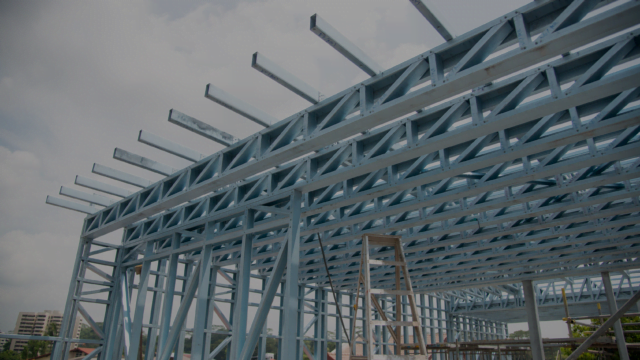 What are pre-engineered buildings?
Prefabricated buildings are revolutionising traditional construction methods, one modular structure at a time.
Pre-Engineered LGSF Buildings in India are constructed by combining the precast components in a factory-controlled environment or a manufacturing facility and then transported to the construction site for final assembly.
Prefabricated buildings use Light Gauge Steel Frame (LGSF) technology, a steel-framed wall system made of cold-rolled load-bearing steel. LGSF is an innovative and reliable construction material that allows for design flexibility, making it a versatile choice for construction.
Among the most notable prefabricated buildings are Burj Khalifa and Sydney Opera House.
A brief history of Pre-engineered LGSF Buildings in India 
LGSF technology was first introduced in Western countries in the 1950s, including Canada, the USA, and England, after World War II.
Under the 1930 Housing Act, a five-year programme was launched to clear slums. That resulted in the demolition of 19,840 houses by 1934.
Due to the growing population and the destruction of thousands of houses by enemy bombs during the Second World War in 1945, the situation worsened. As a result, it was estimated that around 7,50,000 new houses would be needed.
The Government responded by implementing the Temporary Prefabricated Housing Programme, which resulted in 1,56,000 factory-built, single-storey bungalows with a life span of only ten years.
Rubery Owen & Company Limited, Darlaston's largest engineering firm, recognized the need for affordable factory-built houses. They responded by producing prefab houses that were quicker and easier to assemble, had greater durability, accommodated larger families, and provided residents with a more comfortable lifestyle compared to conventional prefabs. These advancements addressed a significant portion of residential needs more effectively.
What triggered the acceptance of Pre-engineered LGSF Buildings in India?
India is a populous country where approximately 70% of the people reside in rural areas. In addition, there is a prevalence of slums and informal settlements that account for more than 60% of the households.
Thus, the Government recognised the need for affordable and decent housing, particularly for low-income earners. As a result, it announced the Pradhan Mantri Awas Yojana (PMAY), based on the vision "Housing for All by 2022". So to address cost-effective, timely, and sustainable mass housing, LGSF was used instead of traditional brick and concrete construction.
As of now, 33% of constructions are based on PEBs. Moreover, the industry size of PEBs in India is $0.38 billion, which is approximately 2% of India's $150 billion real estate market.
What's the future of PEB in India?
Over the forecast period (2022 – 2030), India's PEB Market is expected to reach USD 48.4 Billion, registering an impressive CAGR of 11.66%. Within 7-8 years, India will be among the world's top 10 countries supplying steel buildings. If the PEB industry continues to grow at the current rate of 33%.
In response to India's growing interest in such advanced construction technology, global manufacturers of prefabrication machinery have entered the country. Currently, LGSF structures are used mainly by corporations, but they are eventually gaining popularity in residential construction too. Therefore, pre-engineered buildings in India are poised to redefine the Indian real estate industry over the coming years.
Final thoughts
LGFS's unsurpassed design flexibility, relocation & expansion capabilities have proven game-changers for the construction industry. However, it is still viewed with distrust and scepticism by some individuals. Therefore, it is imperative to raise awareness among the general public, promote the concept, and utilise prefabricated structures extensively for affordable and time-efficient construction.
Nipani Infra & Industries Pvt. Ltd (NIIPL) has a legacy of over 25+ years. Offering end-to-end structural steel construction services and integrated EPC solutions. Our research-oriented and quality-conscious team of 500 employees and 45+ certified engineers. They are seasoned in delivering complex projects and bespoke solutions. So, if you have envisioned your dream project, let's work together to make it a reality.
For Regular Updates follow our Facebook page now: nipanifacebook.com
To know more read our blogs: nipaniblogs.com